Foreign patients will be able to receive a Korean plastic surgery VAT refund (tax refund) until December 2018  (This deadline often gets extended). It is available at participating clinics and hospitals and for the most part covers a wide range of procedures, but there are some exceptions. The following information of the Korea Health Industry Development Institute will help explain.
Quick Facts (The Low Down)
Must be a tourist and not a foreign resident
Must get your refund within 3 months
Refund amount is roughly 8% (10% minus service fee)
Refund is paid in Korean Won
Must have special refund form printed at the clinic
If you spent less than 5 million won you can get your refund in Seoul (Hyundai Department Store Apgujeog)
If you spent more than 5 million won you have to get it at the airport.
1. What is the Korean Plastic Surgery VAT Refund and Cosmetic Surgery in Korea?
○ International patients who got cosmetic surgery and/or procedures ("cosmetic surgery") in Korea can receive a VAT(10%) refund on their medical expenses.
Technically this is 8% because there is a 2% processing fee.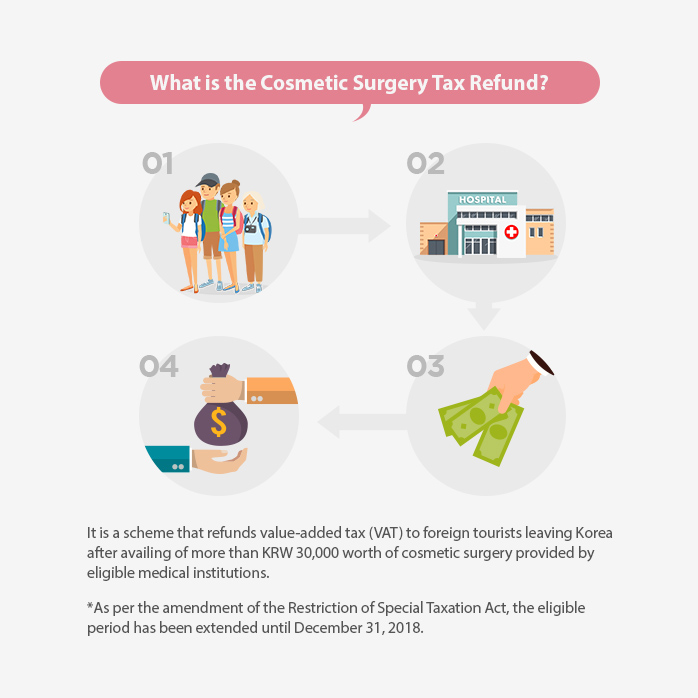 2. Who can get the VAT Plastic Surgery refund in Korea?
People who have no address or place of residence in the Republic of Korea
People who have undergone cosmetic surgery at a participating medical intuition, clinic or hospital among medical institutions approved and registered with the Minister of Health and Welfare in accordance with an Act for Attraction of International Patients.
Persons who depart within three months from the date of cosmetic surgery
* It is applied only to cosmetic surgery. Namely, not all medical institutions registered for the attraction of international patients with the Minister of Health and Welfare are applicable.
** Special Medical Institutions list may be subject to change, so make sure that they are available medical institutions for tax refund in advance.
3. Korean Plastic Surgery VAT Refund Period
○ Until December 2018 (If a deadline is extended for any reason, an announcement will be posted on our website.)
4. Which plastic surgery procedures and beauty treatments can be refunded?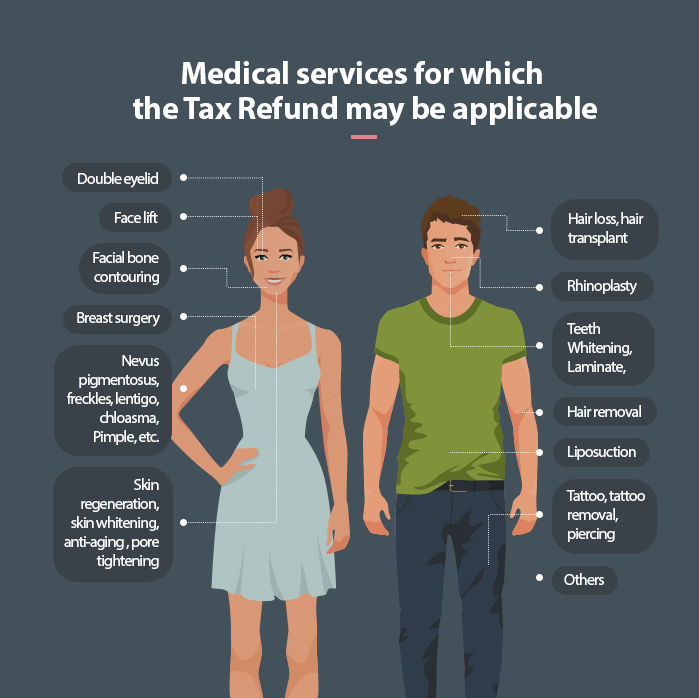 ○ Double Eye-lid, Rhinoplasty, Breast Surgery(reduction/augmentation), Liposuction, Face Lift, Facial bone contouring, Teeth Whitening, Laminate, Gingivoplasty, Orthognathic surgery
○ Nevus pigmentosus, Freckles, Lentigo, Chloasma, Pimple, Hair removal, Hair loss, Hair transplantation, Tattoo, Tattoo removal, Piercing, Lipolysis, Skin regeneration, Skin Whitening, Anti-aging, Pore tightening
5. Required Documents
A Special Medical Institution that has performed the surgery will provide a Certificate of selling medical service for overseas patient ("Certificate") after medical treatment
Depending on refund point, a Consent to collect, use and disclose of personal information ("Consent") may be required.
6. Process of getting Refund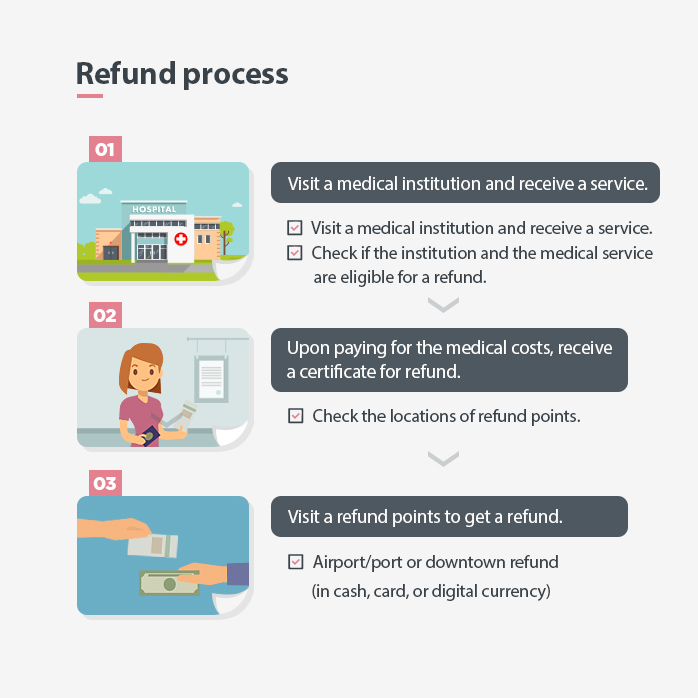 7. Where do you get the VAT Plastic Surgery refund in Korea?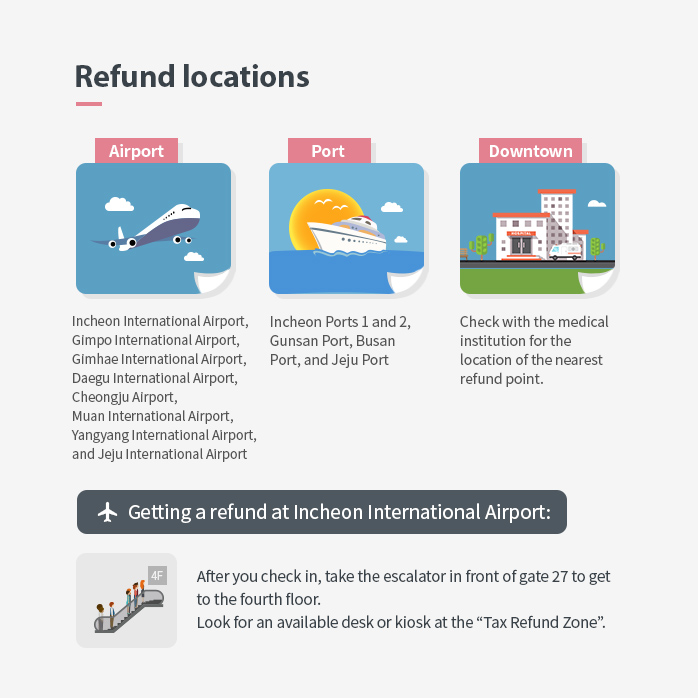 It depends on how much you spent.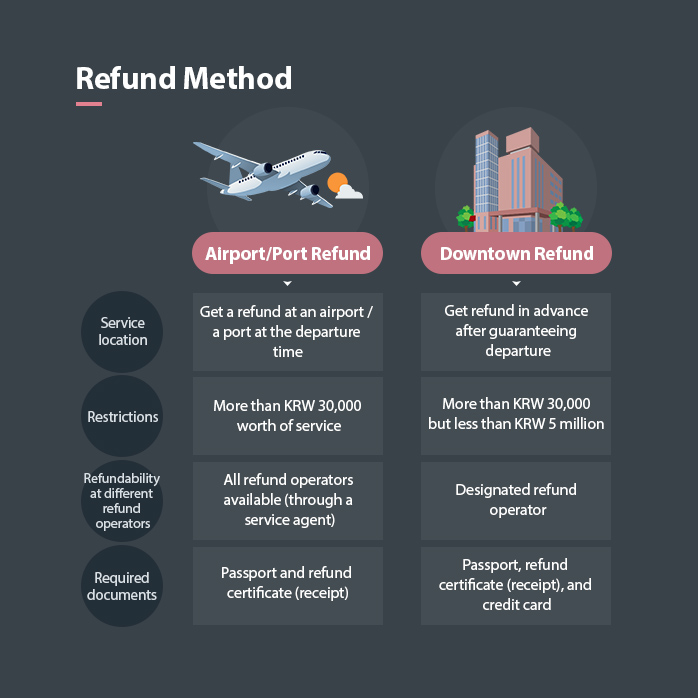 At an airport or seaport (Any Amount)
Airport(port) with refund counter
– Submit the "Certificate" to refund counter or KIOSK and get a refund without a separate confirmation of departure because you already passed the immigration inspection.
In the city at participating locations (Less than 5,000,000 Korean Won Spent)
– Location: Ask the hospital about the nearest refund point
Example: Some Department Stores, or COEX (CALT City Aiport Bus Terminal)
– Submit the "Certificate" and "Consent"
– In some case, refund counter operator may request a guarantee (such as flight ticket, etc.) to confirm a departure date
– Refund after confirming departure (Total medical expenses: less than 5 million won)
Learn More & Sources:
Korean Medical Tourism Website