Hi @fatima008, It may be difficult for clinics to provide an estimate without more details about your case, especially without photos, but here are some average prices that have been calculated by the Korea Health Industry and Medical Institute, a government organization that over sees medical tourism in Korea.
The prices are in US dollars, and the price on the left is the lowest average price and the right is maximum price.
So if you were looking for instance to have a nose reduction, then this could range from $4,500 to $7,300. These prices are guidelines, and are assuming it is your first time having cosmetic surgery on your nose (primary surgery). There are clinics that may have prices lower or higher, but in general prices should fall between this range.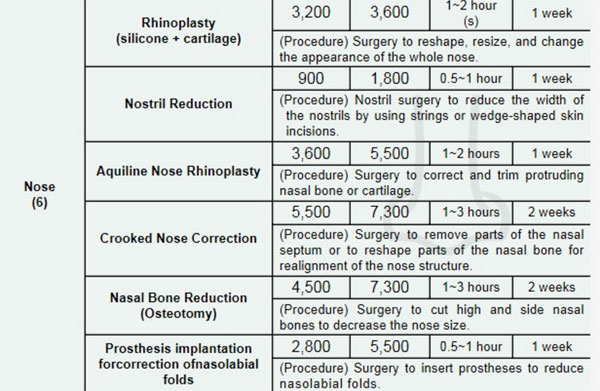 Hello. I have a very good things for you. For example. Do you know about surgery in iran? Lot of very very good doctor are in iran. you are going to have very beauty nose just in iran. Becuse iranian doctor have a lot of surgery .becuse iranian people every body are surgery their nose . Do you know how much money you have to pay ? 5000$ about every thing. if you want to know more you can email to me. I promiss to help you my email adress is:

[email protected]
You must login to post comments
Your Answer
Please login first to submit.