Dear @lslander808 ,
Thank you for your question, and posting your photos. Our clinic recommends for you to have Zygoma or cheek bone reduction, as well as a facial contouring procedure known as a V-Line oseteotomy, which involves square jaw reduction and performing a T osteotomy (see below).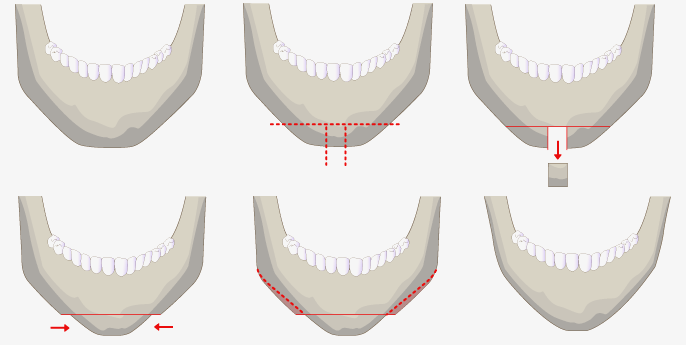 The estimated costs for these procedures are as follows:
Zygoma Reduction : 4,400,000 KRW
V-line osteotomy (Square jaw reduction + T Osteotomy) : 12,320,000 KRW
The price given is for primary case (first time having surgery).
Please note that the price is estimated price and it might change after face to face consultation with the doctor. The price is fixed and includes 10% tax& medications& post operative treatments if you pay in KOREAN cash. 20% service fee will be added if you pay in credit/debit card.
Regarding recovery period, if you receive above surgery, you are recommended to stay in Korea for about 7-10 days after the surgery so that you can get post-operative treatments including stitch removal and required to visit the hospital two or three times for post-treatments.
Major swelling or bruising will gradually go away in about 1 ~2 weeks following the surgery day. It is going to take for about a month for minor swelling to subside. You will see the final result at least 6 months to a year after the surgery. However, the degree of swelling or bruising largely depends on personal cases and conditions.
We can also help you reserve hotel or pick up service from the airport(70,000 KRW) if you make deposit in advance to set up your surgery.
We can help you make a reservation for consultation only (surgery cannot be guaranteed) if you do not make 10% deposit to set up your surgery. Again, thank you very much for your interest in our clinic.
Thank you.
Best Regards,
Julie Kim (English Patient Coordinator, ITEM Plastic Surgery)
Hi Islander 🙂
Thanks for expressing your interest in TL Plastic Surgery 🙂
We're here to help you regain your confidence.
We showed your photos to our facial contouring surgeon, and he indicated that you appear to have a very developed square jaw, large zygomatic arch and asymmetrical chin, which together make your face appear larger and less balanced. Your right side also seems to be larger then the left side. We can perform facial contouring treatments to make your face look "more balanced." However, it's important to keep realistic expectations. For the past three years,  I helped oversee 30+patients per month and from my experience nobody has a perfectly symmetrical face, not even myself. However, that doesn't mean we won't be able to make a significant enhancement and improvement.
Our goal is to help you make your face have more symmetry and attractive facial harmony, so you can feel more confident about your appearance 🙂
We suggest having:
3D zygoma reduction (cheek bone reduction)
Jaw reduction
Chin osteotomy + square jaw botox to reduce your bone and muscles.
Should you have any more questions, please feel free to ask.
Thanks!
Melissa
Foreign Patient Coordinator
Thanks for your question. I'm chiming in a bit late, but more so for any new users coming in. It looks like these are some good answers from TL and ITEM clinics. I wanted to also give a quick mention about View Plastic Surgery, which just opened a brand new facility with an upgraded facial contouring center. It might be another place to consider for zygoma reduction
Your Answer
Please login first to submit.